Charlotte FISHER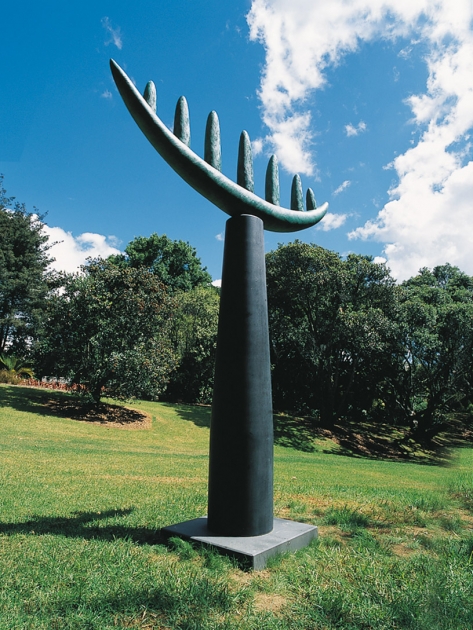 To commemorate 100 years since the founding of Auckland in 1840, a new road was planned for the Domain. The area was surveyed and lined with trees but the road was never constructed. It is now known as Centennial Walkway. Along this path are three sculptures including Charlotte Fisher's sculpture Arc.
Fisher describes her work as a metaphor for the experience of migration. The imagery for the top element was derived from an ancient European petroglyph. Its exact meaning is not known but it may depict figures in a boat. It has intrigued her for many years and inspired the arcs and boat forms in her work.
The siting of Arc acknowledges that the Domain was once closer to the foreshore. It still provides a good vantage point to view the arrivals and departures of vessels in the harbour.
Part of a project initiated by Outdoor Sculpture 2001 Incorporated to mark the new millennium with a sculpture walk in the Auckland Domain.
Gil Hanly photograph courtesy of Urbis magazine.
Charlotte FISHER
b. 1959
Born in Whangarei, Charlotte Fisher completed an Art History degree in 1981 and graduated with a Bachelor of Fine Arts in Sculpture from the Elam School of Fine Arts, University of Auckland in 1989.
Since 1982 Fisher has exhibited in both solo and group exhibitions. In 1993 she was the Rita Angus Artist in Residence in Wellington.
Fisher has undertaken several major public art commissions for the Auckland Council including at Grey Lynn Park, Oranga Community Centre and Alison Park on Waiheke Island. In 1996 Sky City commissioned Arrival for the Hotel's Sculpture Court.
Fisher's artwork is held in both public and private collections nationally, including The Treasury, Victoria University and Te Papa Tongarewa Museum of New Zealand in Wellington; Christchurch Art Gallery and the Whangarei Art Museum.