Background
Philip Augustus Edmiston 1853 - 1946
The Edmiston Trust was established by a bequest from Philip Edmiston, a prominent and respected businessman who spent most of his life in Auckland.
His family emigrated from Westerham, Kent, England to New Zealand in 1858.
He was educated at Auckland Grammar School and Christ's College, Christchurch. After leaving school Philip Edmiston was employed by an auctioneering business in the South Island.
The New Zealand Accident Insurance Company was established towards the end of 1879 and Philip Edmiston joined the new company as an accountant, becoming General Manager in 1884.
New Zealand Insurance bought New Zealand Accident Insurance a year before Philip Edmiston retired in 1906. He remained an active shareholder and attended board meetings into the 1930s.
He died in Sydney in 1946.
Philip Edmiston was a supporter of the Auckland Museum and wished Auckland to be enriched with a fine art gallery and works of art. In his will he left £200,000 to provide for the visual arts in the city.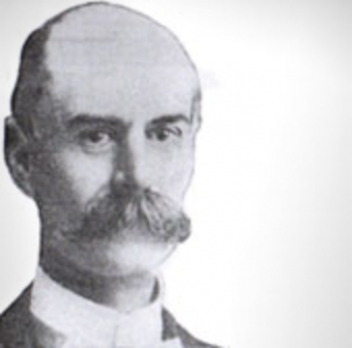 Achievements of the Trust
1958
14th April, Edmiston Trust Board met for the first time and began discussions with the Auckland Council for a new art gallery.
1971
April 16th, Edmiston Wing officially opened at the Auckland City Art Gallery.
1985
George RICKEY Double L Excentric Gyratory 1985. Auckland Art Gallery Toi o Tāmaki.
1986
Jacques CARABAIN Queen Street, Auckland 1889. Auckland Art Gallery Toi o Tāmaki.
1989
Holly SANFORD Edmiston Screen. Aotea Centre. (since removed).
1989
Jesus Rafael SOTO Triptico Azul, Negro y Violetta (Blue, Black and Red triptych) 1977. Auckland Art Gallery Toi o Tāmaki.
1990
Dick FRIZZELL Dame Catherine Tizard (Mayor of Auckland). Aotea Centre.
1992
Provided funding to build the Edmiston Gallery at the New Zealand Maritime Museum and for the purchase of artworks to establish a maritime art collection of national significance.
1993
Anish KAPOOR Untitled 1992. Auckland Art Gallery Toi o Tāmaki.
1995
Len LYE Universe 1963. Auckland Art Gallery Toi o Tāmaki.
1995/1999
Assisted the Nigel BROWN designed Creation Window. Holy Trinity Cathedral, Parnell.
2004-2006
Chiara CORBELLETTO Numbers are the Language of Nature 2005.
John EDGAR Transformer 2004.
Charlotte FISHER Arc 2004.
Fred GRAHAM Kaitiaki 2004.
Christine HELLYAR Spring 2004.
Neil MILLER Regeneration 2005.
Louise PURVIS Promise Boat 2005.
Greer TWISS Graftings 2004.
A project initiated by Outdoor Sculpture 2001 Incorporated to mark the new millennium. Funded by the Edmiston Trust with the support of the New Zealand Lottery Grant Board Millennium Fund and Auckland City Council.
2007
Brett GRAHAM Whaowhia 2007. South entrance Auckland Museum.
2008
14th April marked the 50th year of supporting the Arts in Auckland.
2011
Jeppe HEIN Long Modified Bench Auckland 2011, a temporary installation, marked the re-opening of the Art Gallery and was sited on one of the Edmiston Sculpture Terraces over looking Albert Park.
Sponsored Kermadec: Nine artists explore the South Pacific, an exhibition produced and toured by the Pew Environment Group in association with Tauranga Art Gallery, at the New Zealand Maritime Museum.
2015
Jeppe HEIN Long Modified Bench Waitemata Green 2011/2015. Permanent installation, Waitemata Plaza, Viaduct Harbour.
2016
Leo VILLAREAL Light Matrix (Auckland Theatre Company) 2016. A major light installation commissioned and funded by the Trust for the Auckland Theatre Company, ASB Waterfront Theatre, Wynyard Quarter.