Louise PURVIS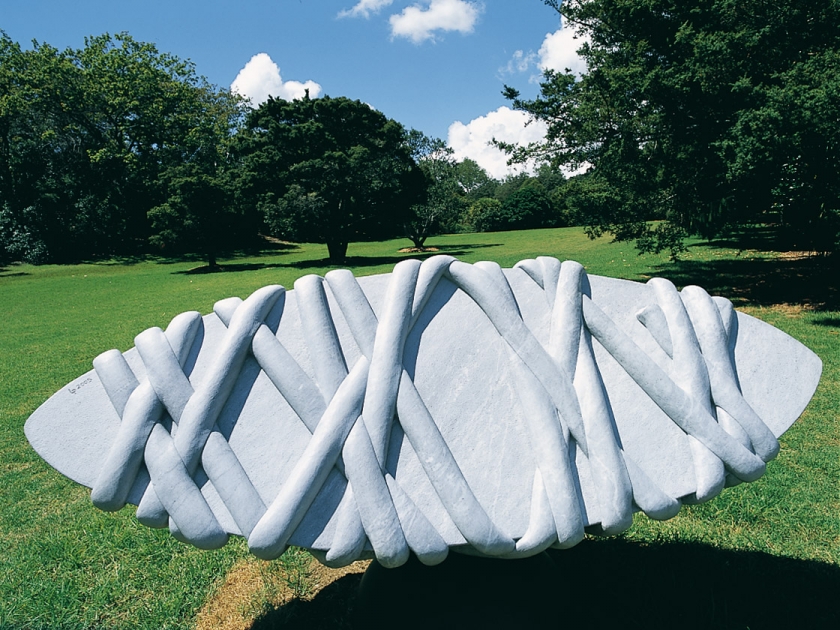 Louise Purvis's Promise Boat is just off Stanley Street at the lower entrance to the Domain, an area closest to Mechanics Bay. Carved from marble it is a simple vessel form wrapped and hidden from view.
The 'wrapping' hides its details but also offers the promise of discovery. Museums wrap objects for storage and transit. The sculpture's location at the entrance to Centennial Walk marks a well-used path for visitors to the museum.
Purvis says she has used a basic boat form to reflect on immigration and emigration. Travelling to places unknown comes with a mix of uncertainty and mystery. Her vessel leans to one side and is perhaps suggestive of the arduous nature of long voyages.
The making of Promise Boat  www.louisepurvis.com/promise-boat.php
Part of a project initiated by Outdoor Sculpture 2001 Incorporated to mark the new millennium with a sculpture walk in the Auckland Domain.
Gil Hanly photograph courtesy of Urbis magazine.
Louise PURVIS
b. 1968
Born in Pahiatua, Louise Purvis studied at Napier Polytechnic from 1987-1988 and then at Waiariki Polytechnic, Rotorua from 1989-1990. She now lives and works in Auckland.
Purvis's works have a simplicity to them which belies their actual making. Her works are primarily in stone and metal. Recent work has been based around landforms and notations of marking and mapping.
Since 1990 she has exhibited in solo and group exhibitions.
Public commissions include: Heritage Towers, Auckland, 2000; Manukau Courts, Auckland, 2001; Te Puna Wai Ora, Hutt City Council, 2003; Promise Boat, Auckland Domain, 2004; Land Map, Shou University, Taiwan, 2006; Catchment, Waitakere City Council, Auckland 2006; Ceramic Markers, Olympic Park, Auckland, 2007; Concrete Treasure Buried Underground, New Lynn, Auckland, 2010.