Neil MILLER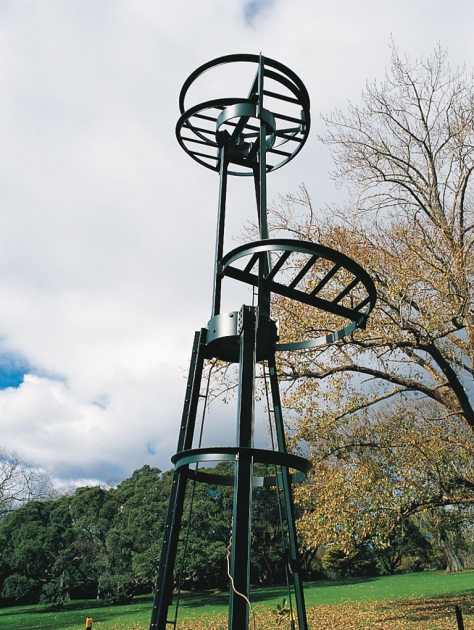 Neil Miller's tower is reminiscent of the avant-garde Russian artists of the early twentieth century who celebrated the use of industrial materials.
Regeneration is a process of renewal and restoration. In the Domain it refers to the history of human activity on the site as well as the Domain's role as a public park. The formal gardens evolved from a 1860s Auckland Acclimatisation Society site. The society focused on introducing new 'innoxious' species, both plant and animal. In 1882 their gardens were transferred to the Auckland Domain Board. By the 1990s these societies had become Fish & Game New Zealand and their role was now to protect natural habitats and species.
Miller's choice of colour for the work was considered and refers to a unique shade of green found in the New Zealand bush. Symbolic of renewal are the native plants incorporated in to the sculpture. Tecomanthe speciosa, a native vine, winds it way to the full height of structure.
Part of a project initiated by Outdoor Sculpture 2001 Incorporated to mark the new millennium with a sculpture walk in the Auckland Domain.
Gil Hanly photograph courtesy of Urbis magazine.
Neil MILLER
b. 1963
Born in England, Neil Miller emigrated to NZ with his family in his early teens. He attended the Elam School of Fine Arts, Auckland University, graduating with a Bachelor of Fine Arts, 1987. In 1996 he completed a Diploma in Arts Administration.
Miller works in a variety of mediums including watercolour painting and metal sculpture.
He has taught sculpture and participated in a number of major New Zealand and international outdoor sculptural projects.
Public commissions include: 2002 Palisade Signals, a series of metal 'signal' works sited along the railway line at the rear of New Lynn Community Centre; 2003 Reconciliation, The Opanaku Arts Bridge, Henderson; 2004 Regeneration, Auckland Domain and Here and There, Ironbridge Open Air Museum of Steel Sculpture, Britain; 2011 Te tiaho o Matariki (the brightness of the Pleiades), Hamilton.
His work can be found in private collections locally and overseas.