Christine HELLYAR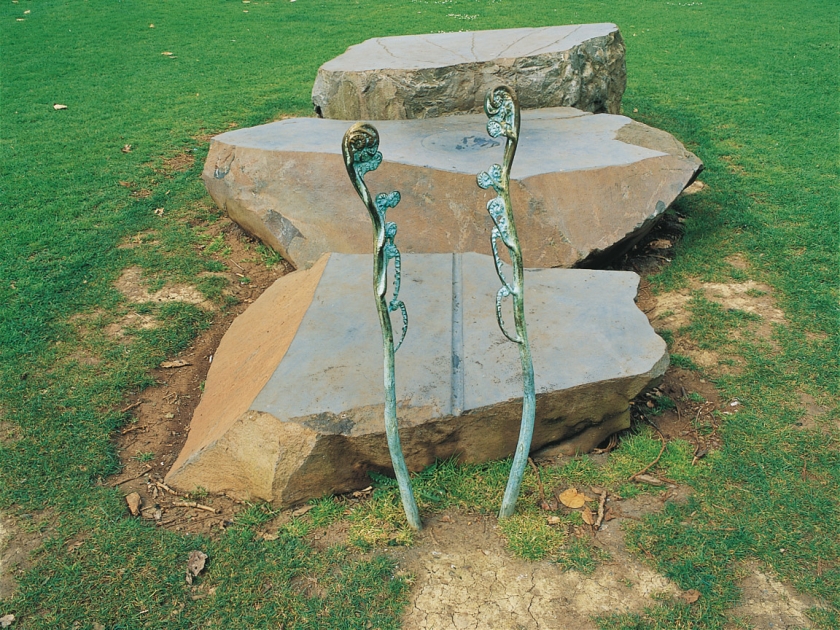 Spring takes its title from the site's history.
The Domain was an area valued by Maori, with its views of the harbour and good volcanic soil irrigated by a natural spring, that was good for gardening. In 1866 the spring became the source of Auckland's first piped water supply. It now feeds the duck ponds adjacent to the Wintergardens.
Made up of three basalt rocks, formed from past volcanic eruptions and sourced from a local quarry, Spring is sited on sloping land above the duck ponds. Each rock is marked, two with grooves and one with a shallow pool. Hellyar describes them as a 'dry waterfall', which when it rains fill with water. At either end are fern fronds in various stages of unfurling.
Part of a project initiated by Outdoor Sculpture 2001 Incorporated to mark the new millennium with a sculpture walk in the Auckland Domain.
Gil Hanly photograph courtesy of Urbis magazine.
Christine HELLYAR
b. 1947
Born in New Plymouth, Christine Hellyar graduated in 1969 with a Diploma of Fine Arts (Hons) from Elam School of Fine Arts, University of Auckland.
She is interested in the way people react with their environment and her love of the natural world has inspired her artwork.
Hellyar has worked in a variety of media. In 1968 she was the first New Zealand artist to cast in latex rubber. In the 1980s, working in bronze, she made tall, bronze garden sculptures of native plant stems and flowers.
In 1982 she was one of the first women to represent New Zealand at the Biennale of Sydney. She has exhibited in both solo and group exhibitions nationally and internationally, including Japan, Budapest, USA, Holland, Spain, Singapore and Australia.
Alongside her interest in gardens and landscapes Hellyar is fascinated with museums, display and history. She has been particularly intrigued by the objects collected during Captain Cook's voyages and in 2002 exhibited Mrs. Cook's Kete with Maureen Lander at the Pitt-Rivers Museum, Oxford, England.
In 2003 Hellyar was one of the first artists to be awarded a Wild Creations Art Residency (a joint venture between DOC and Creative NZ). She spent six weeks on Mt. Taranaki. Work from that period was exhibited at Puke Ariki Museum, New Plymouth, 2004 and Lopdell House, Auckland, 2007.
She now works mainly in fibre for indoor sculpture and bronze for outdoor sculpture.
Her work is represented in major public collections in New Zealand.